Updated: 2-19-13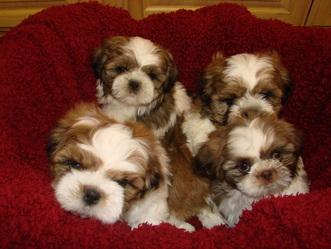 We specialize in quality Shih Tzu puppies from beautiful Northern California. We strive to exceed our customers expectations!!! Our quality and services cannot be beat. We are there for you from day one and always will be there for you with any questions or concerns you might have. We go above and beyond for our clients.

These puppies are all born and raised in the house with me and my family. I am an at home mother, so I am able to give them the 24 hour tender loving care they deserve and need!!! Our Elegant Shih Tzu puppies are a cut above the rest. They have cute fluffy faces, beautiful colors with soft shiny coats, are very healthy and have great dispositions. Our adult dogs (Little Miss Tess & Sir Baxter Bentley and Bailey Brooke) are the best of the best.. They do not shed, they are very quiet, they are wonderful with kids and are the best companions!!!

When you decide to adopt one of our precious puppies and take him/her home, we will provide you with as much information that we can to help with the transition. We will provide you with weekly pictures of your new addition until you pick him/her up. The day you pick up your puppy you will receive a puppy bed with mommy's scent, puppy food and a couple toys with mommy's scent. You will also receive AKC papers, copies of parent's Pedigrees, an Informational Packet with loads of advice and suggestions for your new puppy. A CD full of pictures of your puppy from the day him/her was born till the day you picked them up. We also provide a health guarantee. And most important of all, we will be there for you with any questions or concerns that you may have when you take your new puppy home. Not only do you get a Top-Quality Elegant Shih-Tzu, you get Top-Quality service from us.

We prefer not to ship our precious puppies. For a small fee we can deliver your puppy within driving distance. If we have to stay overnight the charge would include a hotel stay. We do have family in Southern California, Sacramento and Oregon so we may be able to work something out if you live near these areas. If all else fails, we will ship our puppies through Continental Pet Safe Flights, but it is seasonal so please contact me for availability and price.

As I mentioned above, our puppies are Top-Quality. Our puppies have tons of Champions in their bloodlines!!! Our adult dogs are worth a lot more than we are asking for our puppies. But in this economy we feel that just because you may not want to spend a large amount of money on a pet doesn't mean you cannot provide a good home to these beautiful little ones. Therefore, we have reduced the price to those who are going to give them a wonderful home. We ARE NOT a puppy mill and we do not sell to puppy mills or brokers for any reason. These puppies are very precious to us. We stand behind our little ones. If you want to breed one of these dogs we will have to approve you first and charge you an additional price depending on the size and color of the puppy. We are mainly looking for those who want a companion and addition to their family. Don't miss out on these wonderful little dogs.

Enjoy the video and pictures!!!
---